Gruppo Italiano Astrometristi
---

The Gruppo Italiano Astrometristi (G.I.A.) (Italian Astrometry Group) coordinates all the astrometric activity done in Italy by amateur astronomers. By admission of Brian G. Marsden, director of Minor Planet Center, the Italian working group is as active as the well known Japanese group in terms of discoveries and measures sent to his office.
The G.I.A. members have two meetings a year, the last one having been in Polino (Terni) on May 24th and 25th, 1997; they are connected via a mailing list run by Roberto Di Luca (Bologna Obs.)
A list of the observatories involved in G.I.A. is shown here below:

      Obs. name       IAU code  Responsible        Internet E-mail

San Marcello Pistoiese   104    Luciano Tesi      iau@arcetri.astro.it
Montelupo                108    Maura Tombelli    m.tombelli@leonet.it
Pleiade Obs.             112    Plinio Antolini   cast.vr@univr.it
A.F.A.M. Remanzacco      473    Giovanni Sostero  afam@conecta.it
Grange Obs. Bussoleno    476    Paolo Pognant     grange@mclink.it
San Vittore              552    Ermes Colombini   astrofil@astbo1.bo.cnr.it
Madonna di Dossobuono    560    Luciano Lai       astrofil@astbo1.bo.cnr.it
Bassano                  565    Ulisse Quadri     astrofil@astbo1.bo.cnr.it
Sormano                  587    Piero Sicoli      sormano@tin.it
Santa Lucia Stroncone    589    Antonio Vagnozzi  vagnozzi@astrom.astro.it
CCAF Obs. Farra d'Isonzo 595    Luciano Bittesini ccaf@tmedia.it
Colleverde di Guidonia   596    Silvano Casulli   v.casulli@priminet.it
Pianoro                  610    Vittorio Goretti  astrofil@astbo1.bo.cnr.it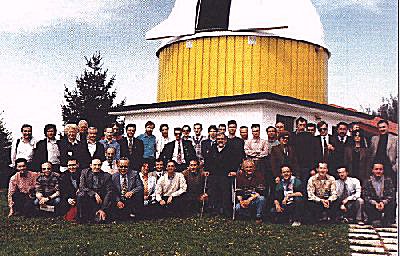 The G.I.A. group during the meeting of April 22th, 1995 held in Farra d'Isonzo (GO): ninth from left in stand up row (with a blue shirt) is Gareth V. Williams, Associate Director of Minor Planet Center, Cambridge, MA.
---
Back to Grange Obs. homepage